A Sweet Idea…
With Christmas just over a week away, we have an excellent little recipe for you that is perfect for a baking gift exchange or if you're simply just in need of a yummy holiday treat. This Chocolate Toffee Graham Bark recipe is so easy to make and is so big on sweet flavor!
We kind of stumbled upon this bark by accident. Dave had a show in Manhattan Beach and the catering company had put a huge dessert spread out. Dave had a piece of their chocolate bark and was blown away…but couldn't actually decipher one ingredient. One of the coordinators told him what it was…graham cracker! The next day he said, "We HAVE to make this bark!" We researched online for some recipes and discovered just how popular chocolate bark was and how all the recipes were very similar. We adapted this one from About.com's Chocolate Graham Toffee Bark. Bingo!
Since then, we have made a few batches of the bark and can we just say that it is a huge hit with everyone…family, friends and the kids go bonkers for it! We figured since it really is super simple to make and with the holidays just around the corner, we needed to share this with you. It is also a good one to get the kids involved with. Ours love to top the bark with their favorite colored sprinkles. Bake away and have fun!
Cheers!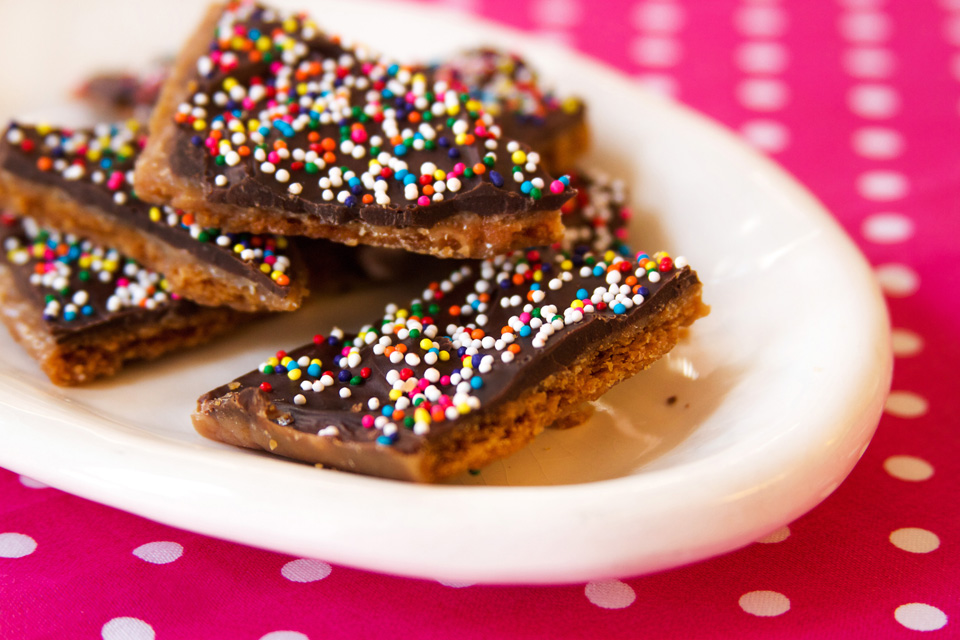 1/2 pound (two sticks) butter, plus 1 additional tablespoon for the hazelnuts
1/4 cup brown sugar
1/4 cup granulated white sugar
1/2 box plain graham crackers
1 cup chopped hazelnuts
salt
2 cups semi-sweet chocolate chips
Preheat oven to 350 degrees F. Line a 11 x 17-inch cookie sheet with non-stick foil. Arrange whole graham crackers to fit the bottom of the pan in a single layer, breaking up the last few to fit the space.
Melt the butter in a medium saucepan over medium heat. Add brown sugar and white sugar. Stir to combine. Bring mixture to a boil. Reduce heat and let the mixture gently bubble for 4 minutes. Remove from heat.
Carefully pour sugar/butter mixture evenly over the graham cracker layer. Spread to cover. Bake for 10 minutes. While this is cooking in the oven, toast the hazelnuts. Spread them on a small baking pan, season with salt and the remaining 1 tablespoon of butter and bake for the last 5 minutes. Remove and let cool.
When the graham cracker layer is done, remove from oven and let rest until bubbling subsides. Sprinkle chocolate chips evenly over the top. Wait about 2 minutes for the chocolate to melt, then use a spatula to gently spread the chocolate chips into an even layer on top of the toffee graham crackers. Sprinkle with the toasted hazelnuts, pressing down gently into the chocolate.
Cool to room temperature, then refrigerate for 2 hours. Peel foil from chilled bark. Crack into 2-inch irregular pieces.
Refrigerate any left overs.
Prep Time: 15 min
Cook Time: 15 min
Total Time: 30 min
Yield: 1 pound