We've always enjoyed watching Michael Chiarello host his cooking show "Easy Entertaining" on the Food Network. Michael's style of cooking "marries the rich traditions of his Italian culinary heritage with the casual style and fresh flavors of wine country." With our own love to cook and the love for Napa Valley…the two main ingredients for Michael's show, we've always felt a little connection to his passion. On one of our first trips to Napa, we made it a point to eat at his (then owned) Tra Vigne restaurant. A dining experience we still remember to this day.
This last trip to Napa, we did some daytime exploring in Yountville. This little town felt like the Aspen, Colorado of Northern California to us. You can lodge right in town and never want to leave. This place has it all…incredible wineries, fine dining, luxury hotels and endless shopping. Heck, Thomas Keller's The French Laundry restaurant is here! It is stilled hailed by many as "the best restaurant in the world!"
As we walked through Yountville, one of our destinations was Michael Chiarello's retail store, NapaStyle. Located at V Marketplace, a multistory red-brick building home to boutique specialty shops, art galleries and restaurants.
NapaStyle is kind of Pottery Barn meets William Sonoma meets Crate&Barrel, but all with a little "wine country" style. It's filled with home decor, kitchenwares, tabletop, garden accents and gourmet food items. The atmosphere was alive and filled with shoppers meandering about. There was even an espresso bar and café! The café looked like a great spot to grab a salad or panini for lunch. And much to our surprise…there was a wine bar smack dab in the middle of it all! Pouring wines from Michael's own label, Chiarello Family Vineyards, as well as a few wines from other California and Italian producers. We opted to sample the wines from his label and found these "highly rated" bold fruit forward wines enjoyable.
His current restaurant Bottega is literally right next door. The doors almost flow out of one, and into the other. Bottega serves up "bold Italian flavors from the heart of California's Wine Country" and is definitely one of Napa's more popular restaurants. We were told that Michael visits his eldest daughter in Barcelona often, which has inspired him to open a new Spanish restaurant which he named Coqueta. It will be opening this spring in San Francisco on Pier 5. We look forward to checking this one out!
Aside from him being a chef, TV host, vintner and a very successful entrepreneur, Michael just seems like a great guy who loves his family and friends, food and wine, and the Napa Valley…sounds pretty good to us! We would love to be "easily entertained" by Michael Chiarello any day!
Cheers!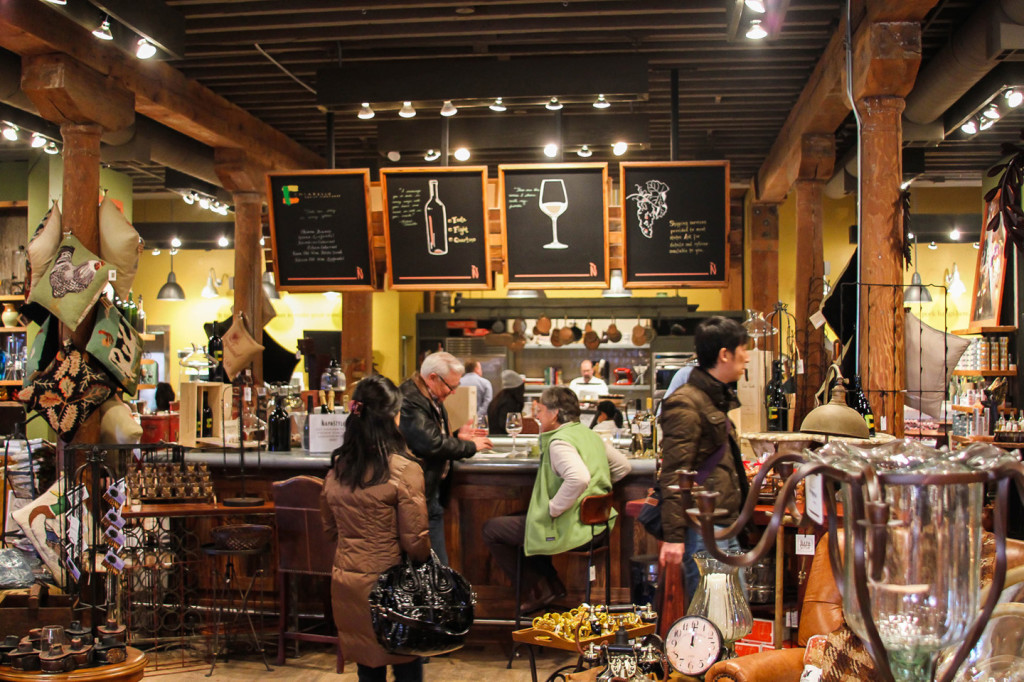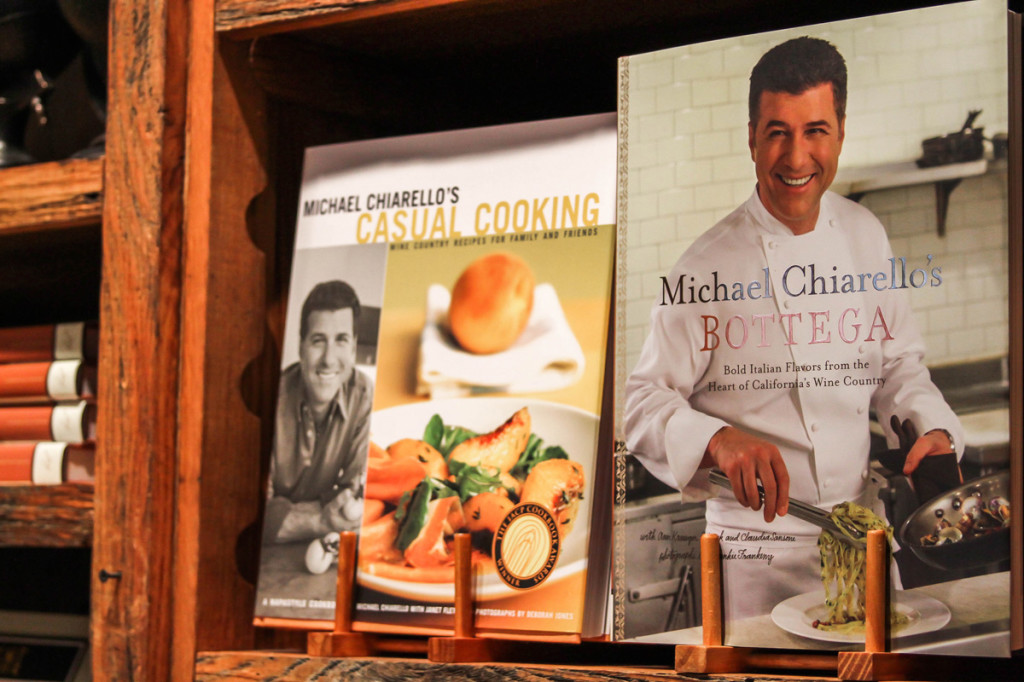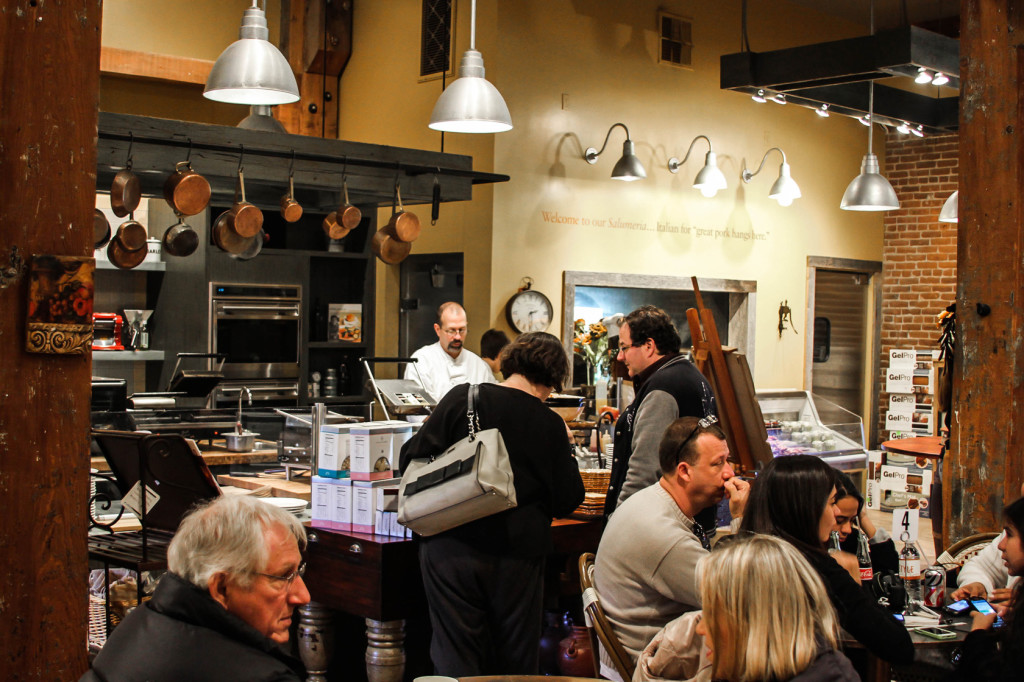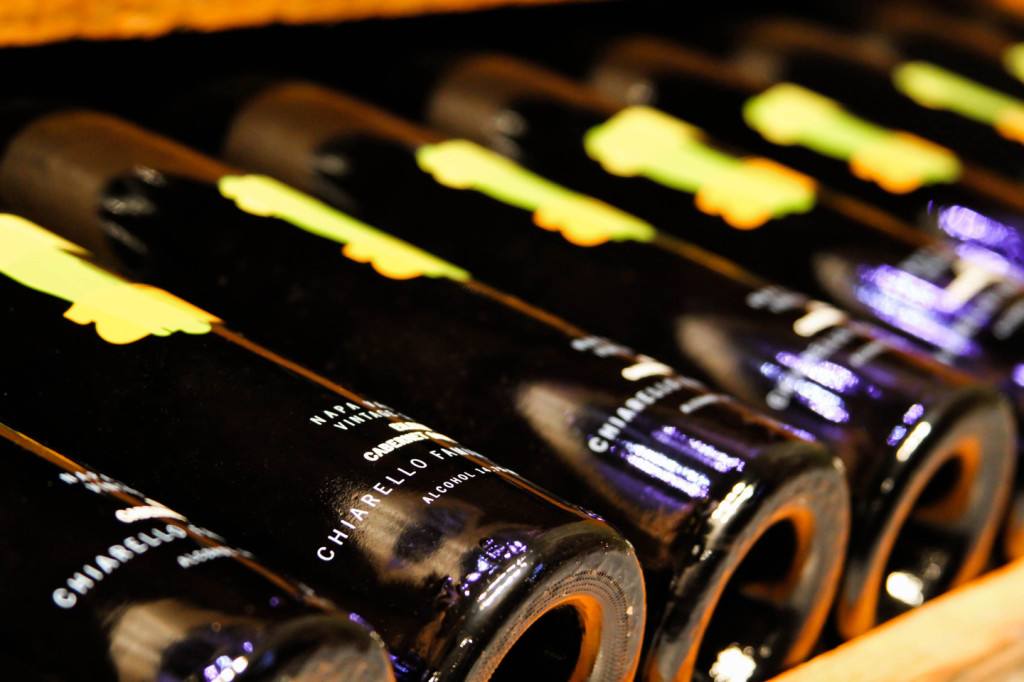 6525 Washington Street Yountville, Ca 94599  (707) 945-1229
Hours: Sunday thru Saturday 10am – 6pm
Café Hours: 11am – 3pm Daily
Wine Tasting Fee: Chiarello Family Vineyards $15 per person for 3 tastes. Wines from other California and Italian producers $10 per person for 3 tastes.