Los Olivos, Ca.
On our trip to Los Olivos a couple weeks ago, we stopped in Dragonette Cellars for a tasting. We have always been huge fans of their Pinot Noir and were looking forward to visiting them again. On this particular day, we started our adventure with a delicious lunch at Sides Hardware & Shoes (on a side note…the seasonal Chilled Corn Soup was to die for!) before we set out to explore Los Olivos.
If you haven't been to Los Olivos before, we'll give you a quick run down. It's a charming little town about 45 minutes north of Santa Barbara. Grand Avenue, which is the main street through town, is filled with over 30 wine tasting rooms, eateries and shops. On our last visit, we realized that you can spend an entire day just walking around town, strolling from place to place, meeting people from all over and of course, tasting some of the best wine that this region has to offer.
Dragonette Cellars is located just down a side street, Alamo Pintado Avenue in downtown. To begin, the tasting room itself is simple, some great photos on the wall of the winemakers, a couple chairs and a huge chalkboard listing the wines being poured for the day. We have to say that we had FUN during our wine tasting here! A wine tasting can sometimes easily be a quick 15-20 minute thing, but ours at Dragonette lasted for well over an hour. Jen, our tasting room hostess was so awesome! We also met another couple from Thousand Oaks who had just dropped their son off at college. The five of us chatted and laughed the whole time about kids, food and the wine of course. Jen had some funny stories and was filled with information about all the wines and Dragonette's history.
Our tasting consisted of the following:
2013 Rosé, Happy Canyon
2013 Sauvignon Blanc, Happy Canyon
2012 Sauvignon Blanc, Vogelzang Vineyard
2012 Pinot Noir Sta. Rita Hills Fiddlestix Vineyard
2011 MJM
2012 Seven
Even though all of Dragonette's wines are truly fantastic, we ventured outside our Dragonette norm and bought a couple wines that we felt stood out to us this time around.
We fell in with love with the Volgelzang Vineyard Sauvignon Blanc…beautiful white flower, green herbs, a hint of creaminess (from the partial oak aging) and a finish that mirrored the nose, but with the addition of citrus and some bright acid. What a delight! Another wine that we were drawn to was the MJM, named after the winemakers wives, Mitchi, Jen and Michelle. It's a blend of 93% Syrah, 6% Grenache and 1% Viognier. What caught our attention about this one wasn't the exuberant dark blue-black fruit, the essence of cured meats, the star of anise, or the herbes de Provence…it was the earthy-barnyard characteristic that put this one over the top for us. Mmm, so so good!!!
The main attraction at Dragonette is the wine…period! Yes, the staff is cool and you could hang here all day, but in the end they really are pouring some amazing wines.
We would say that popping into Dragonette is a must in our book!
Cheers!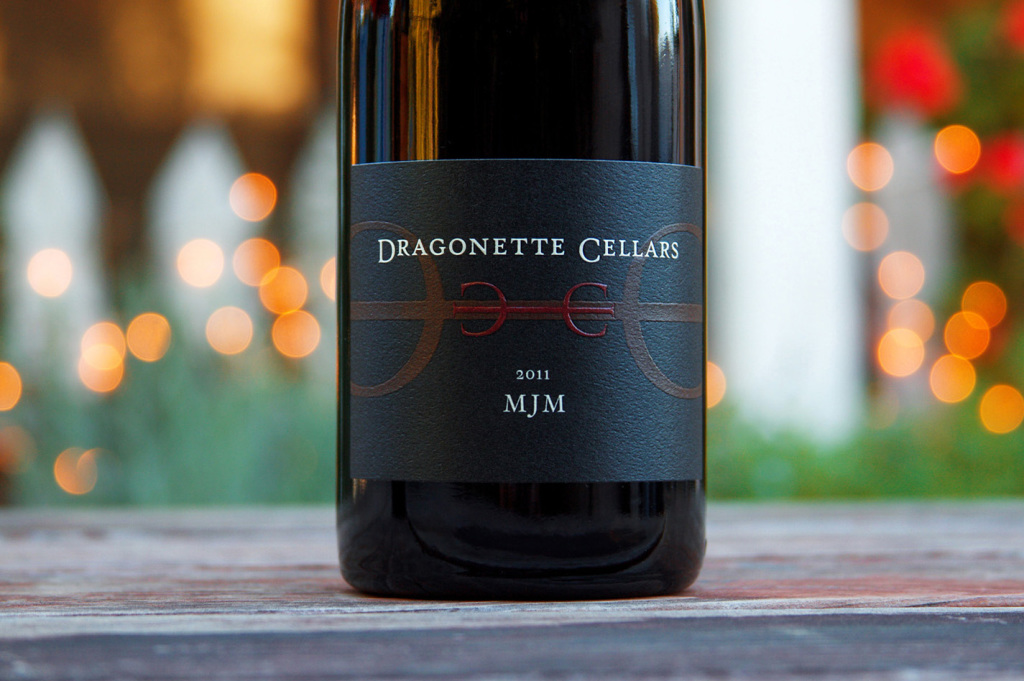 2445 Alamo Pintado Avenue, Los Olivos, Ca 93441  (805) 693-0077
Hours: Open 7 days a week from 11:00 am – 5:00 pm
You may also like: