Los Olivos, Ca.
You could say that Andrew Murray Vineyards was one of the places that got us hooked on wine over a decade ago. On our first trip to Los Olivos, this was the very first tasting room we stepped foot in. At the time we really didn't know what kind of wines we liked or for that matter, we really didn't know to much about wine in general. But one thing we did know was that we were curious. After one sip at Andrew Murray, there was something very intriguing about the wine, the flavors were indescribable and we knew we loved it! From here on out, Andrew Murray kind of set the bar for us when it came to California Rhône varietals.
Fast forward to 2013 and a lot has changed at Andrew Murray since our first visit. New sources of grapes, all screw cap tops and a new tasting room. Murray now also has a second label, This is E11even Wines, which got its name from the mockumentary, This Is Spinal Tap. Andrew has always had the dream of being a rock star, but never knew how to play an instrument. Making this wine is his way of fulfilling that childhood rock-n-roll dream! And like any rebellious musician, he's breaking some traditional wine making rules. Blending some non-Rhône varietals that have never been blended together before. Just another reason why Food & Wine Magazine hailed him as the number one "Santa Barbara Wine Maverick" in 2004.
The Grapes: In 2006, Andrew's family sold their estate vineyards to Demetria Estate, so the days of Roasted Slope Vineyard Syrah are gone. But even when the family owned the estate, Andrew still outsourced grapes, so in a sense, not too much has changed in that regards. Grapes are now coming from vineyards like Watch Hill in Los Alamos, McGinley Vineyard in Happy Canyon and Terra Bella Vineyard in Paso Robles. He also makes Syrah's from the critically acclaimed Stolpman Vineyard and Thompson Vineyard. Even though some of the grapes may not be the same, he's still making wine the Andrew Murray way… delicious!
Screw Cap: Andrew uses screw caps with a Saranex liner for all his wines. These liners are slightly permeable to oxygen, allowing a slow, steady development while maintaining fruitiness. He's a firm believer that this superior closure keeps the wine the freshest without any chance of taint. Screw caps have been associated with cheap supermarket wines. We can assure you, this is still quality wine…cork or no cork.
The Tasting Room: Three words come to mind when describing the new AM tasting room…modern, bright and sleek. We were quite surprised on our last visit to find all the changes the tasting room had undergone. A sleek white leather settee, stainless steel tasting bar and a lovely outdooor banquet style seating area. They've also added a small section of goodies like soaps, lotions and cookbooks.
We should mention that while we have only experienced Andrew Murray's Los Olivos wine tasting room, you can also opt to visit the winery itself for your tasting. The winery tastings are limited to weekends from April-mid-Decmber and off months by appointment only.
To us Andrew, you will always be a wine rockstar! Thanks for turning us on to the Rhône's and always making great wine that we have thoroughly enjoyed over the years.
Cheers!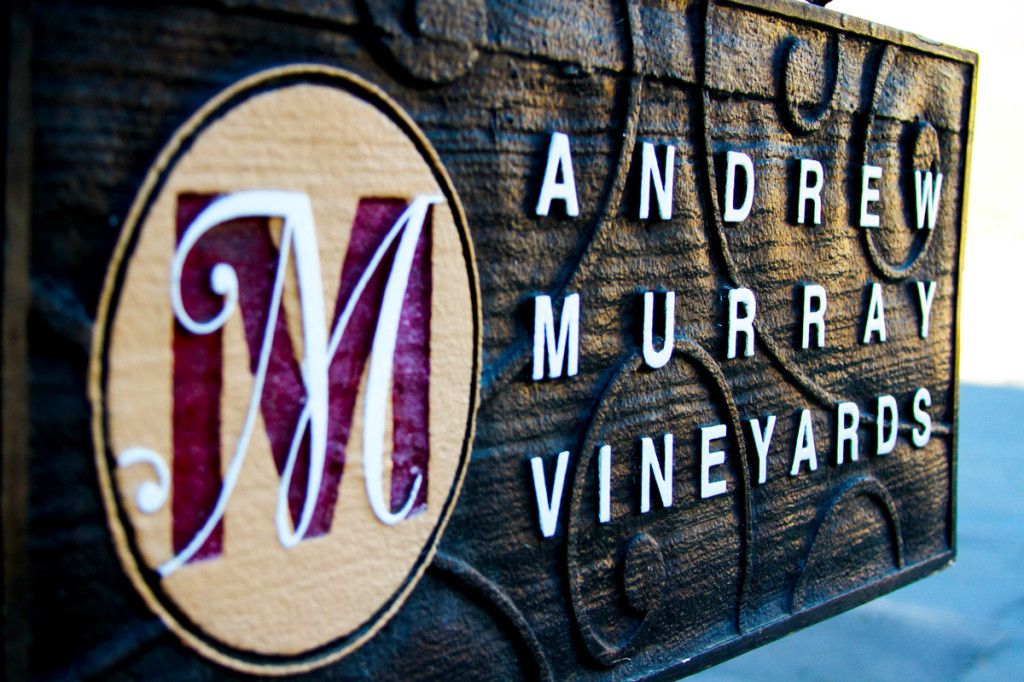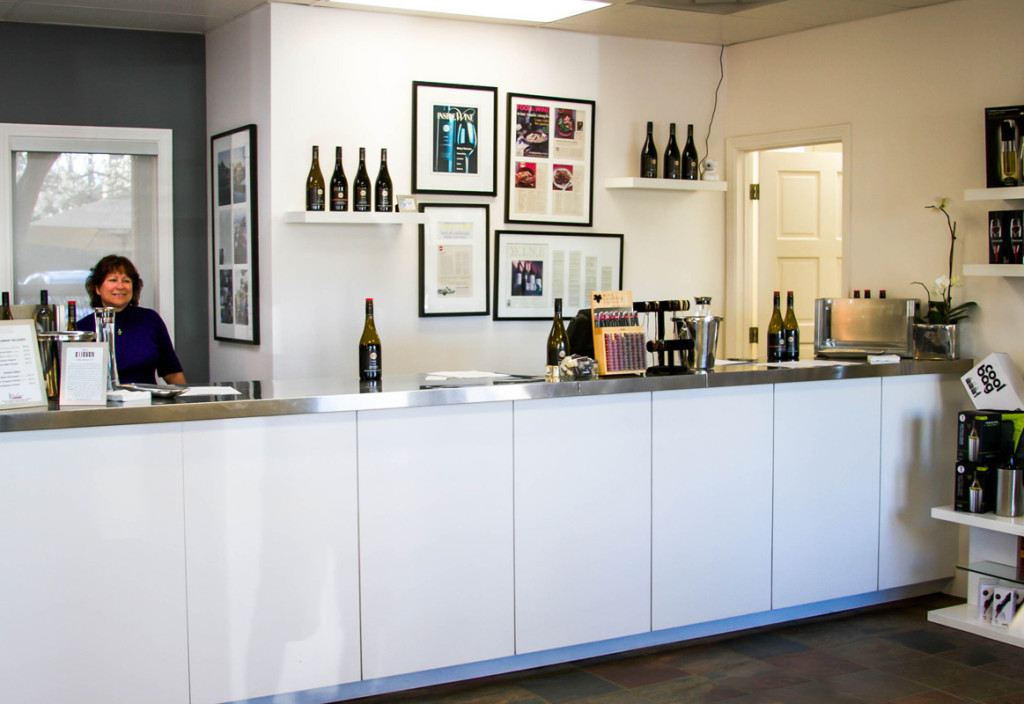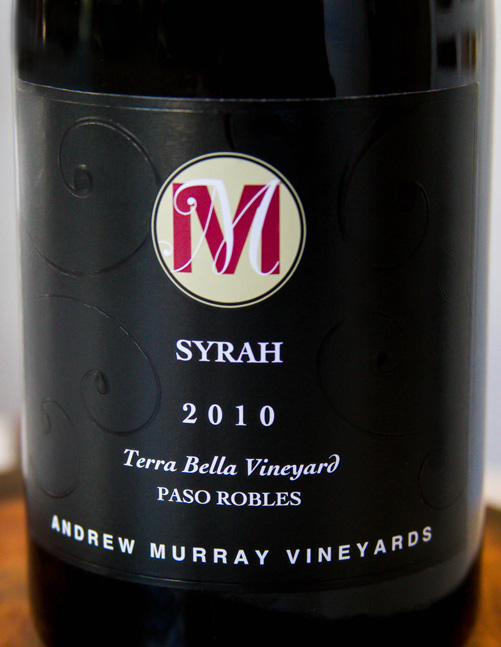 Los Olivos Tasting Room: 2901-A Grand Avenue, Los Olivos, Ca 93441  (805) 693-9644
Hours: Open Daily from 11:00am – 5:00pm
Tasting Fee: $10 per person
Andrew Murray Vineyards Winery: 5095 Zaca Station Road, PO Box 718, Los Olivos, Ca 93441  (805) 686-9604
Hours: Weekends from April-mid-Decmber and off months by appointment only.