After New Year's, our kids still had some time off from school, so we decided to take a family trip to Santa Barbara (any chance we get to visit there, we jump on the opportunity!) The main focus of this getaway was to emphasize some good 'ol family fun together and not turn the trip into our typical wine tour. We ended up discovering some new and exciting things around town. Of course we thought we'd share…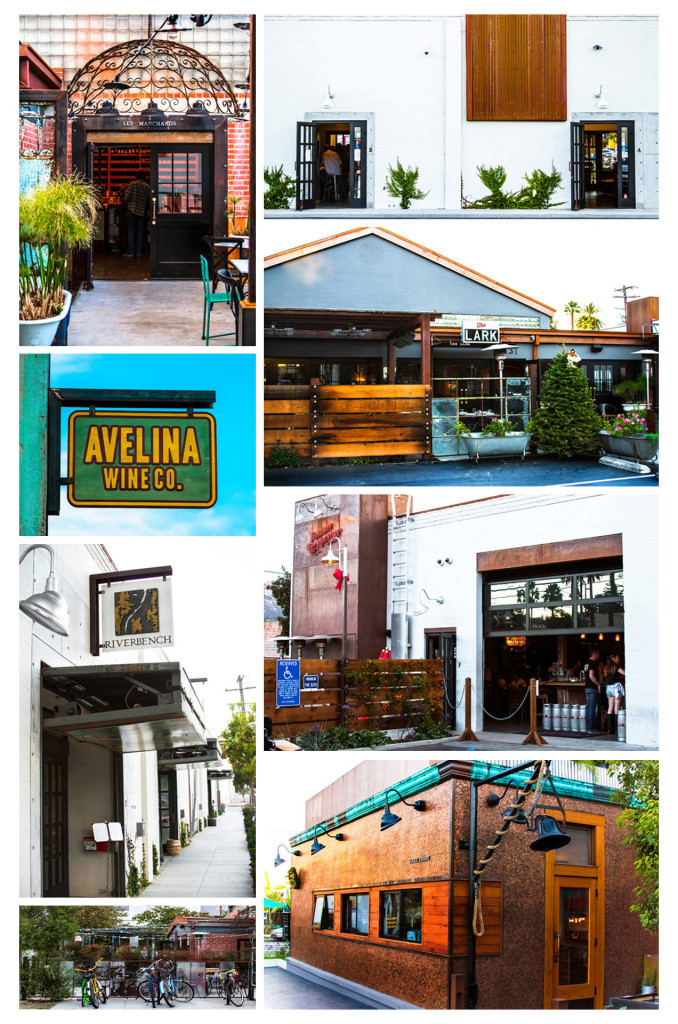 The Anacapa Project is a new block that is located within Santa Barbara's Funk Zone. The Funk Zone is a cool, industrial, hip area in SB that allows you to explore wine, beer, food and more…all within walking distance from one another. You can wine taste at Les Marchands Wine Bar & Merchant (owned by wine sommeliers Eric Railsback and Brian McClintic from the movie Somm), Riverbench Winery, Area 5.1 or Avelina Wine Company. Grab a tasty brew at Figuerora Mountain Brewing Company or if you're a whiskey drinker, stop in Cutler's Artisan Spirits. If you're looking for food, Lucky Penny serves up some nice wood burning pizza's along with some sandwich and salad options and The Lark is a great spot for a nice dinner. This one block seems to have it all. At one time this area only consisted of a couple wineries, but it has now expanded into more than a dozen wine tasting rooms, restaurants, breweries, art galleries and shops. The area is growing fast and it is definitely the place to be right now in Santa Barbara.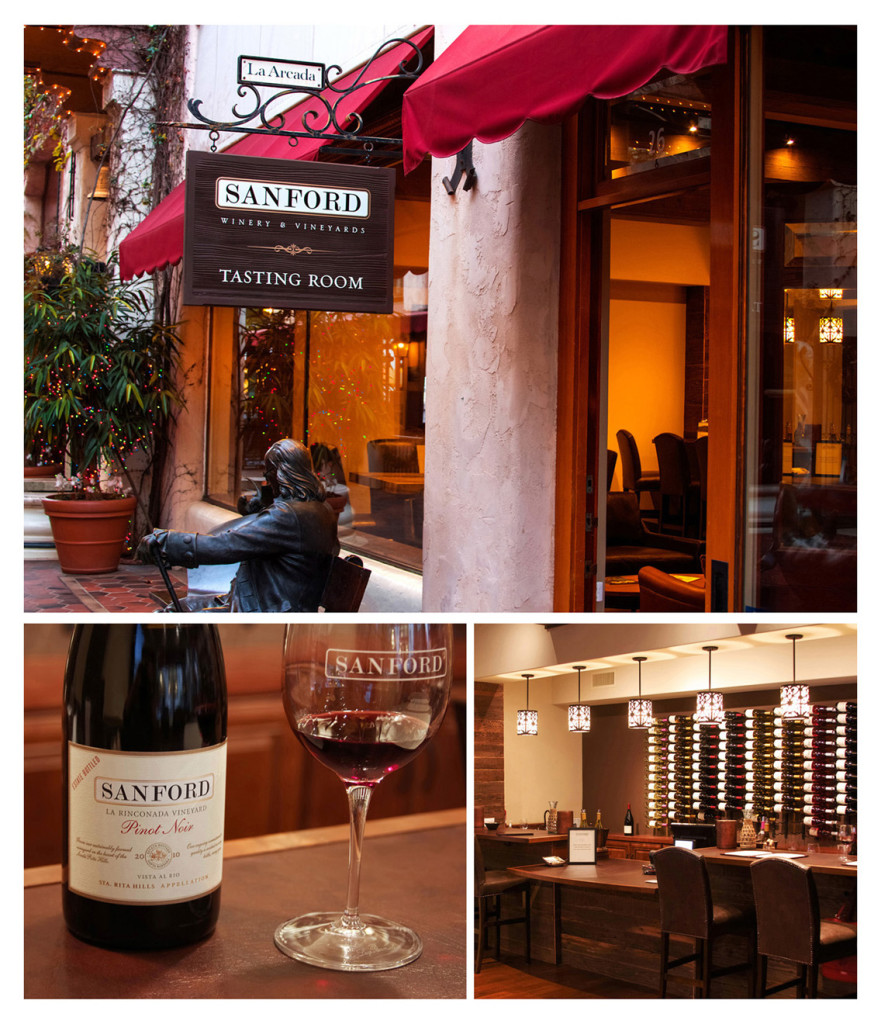 While heading over to our favorite Chocolatier, Chocolats du CaliBressen, we were totally shocked and very excited to find a brand new tasting room right next door, Sanford Tasting Room! Of course, we couldn't just walk by without checking it out. We popped in for a taste and loved the 2010 Pinot Noir Vista Al Rio, produced from a small block within the La Rinconada Vineyard. Mmm! Sanford really did a nice job with the tasting room and it's a great addition to the downtown area.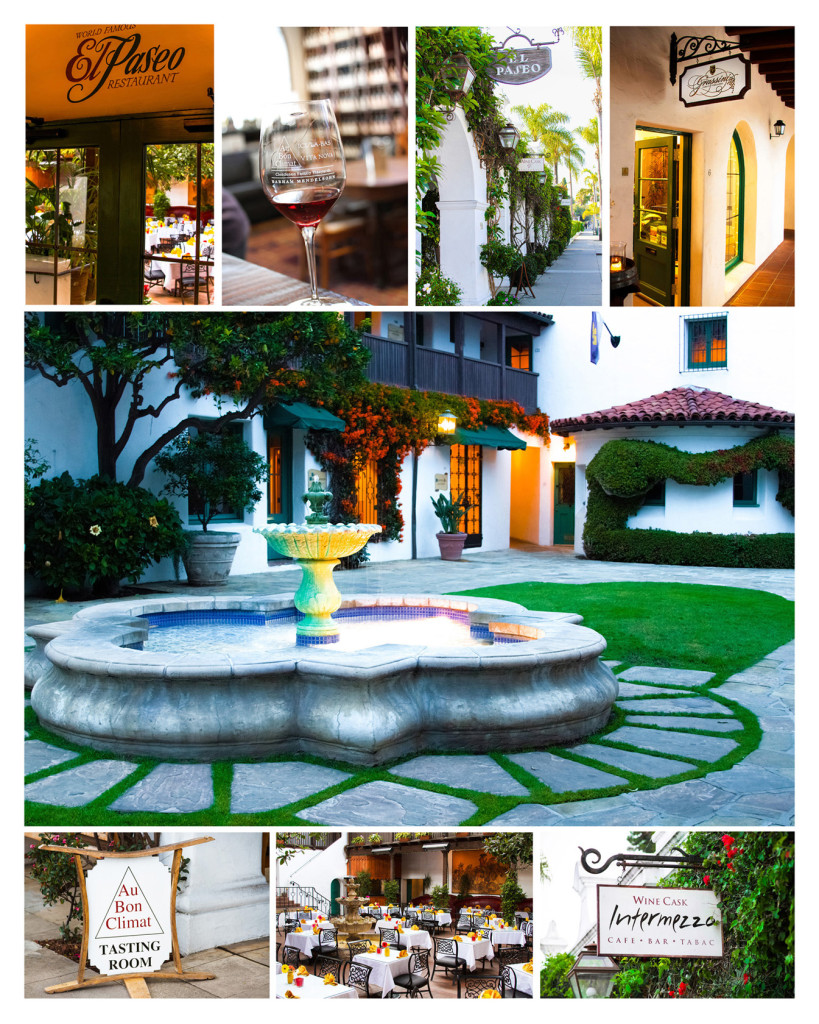 This area is not completely a new discovery for us. We've been enjoying good food and wine at El Paseo for many years now from the Wine Cask Restaurant, Intermezzo Bar + Café and El Paseo Restaurant. It's definitely an area any wine lover should know about if tasting in Santa Barbara. Located just one block off State Street in the heart of SB, this area has some great tasting rooms to tour right next door to each other… Au Bon Climat, Margerum Wine Company and Grassini Family Vineyards. You'll discover that each tasting room has a little different wine focus. Au Bon Climat pours the Burgundian varietals, Margerum showcases their Rhone varietals, and Grassini features Bordeaux blends, a little something for everyone. "Historic El Paseo, California's first shopping center, was built in the 1920's and features a variety of unique gift shops, jewelry stores, galleries and restaurants nestled amid romantic gardens and Spanish courtyards," which gives you a true sense of being in Santa Barbara.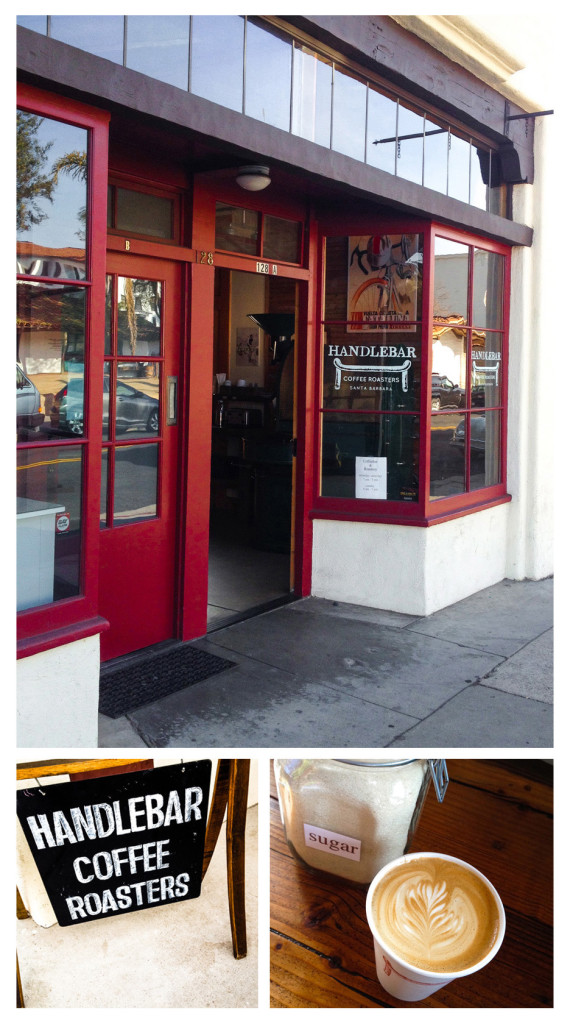 New specialty coffee house that serves one delicious cappuccino…seriously!
5. Los Arroyos Mexican Restaurant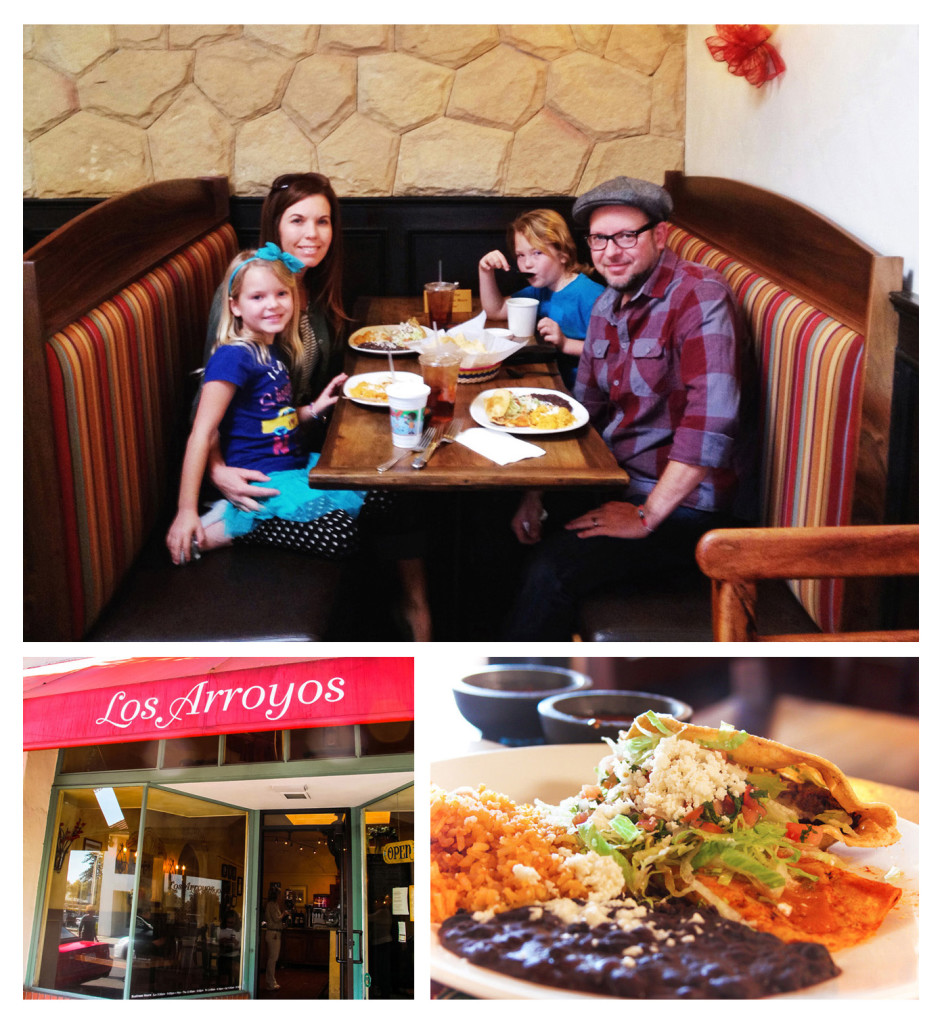 We have written about Los Arroyos in the past because it has always been our favorite Mexican food place to eat at while in Santa Barbara and it still is! But on this visit we were surprised to see that the location on Figueroa had underwent a remodel inside. They've added a few new booths and tables, updated the salsa and beverage area and added some new finishing touches to the decor. We must say that we love the new look and as always we love the food too! Can't wait to visit again.
6. McConnell's Fine Ice Creams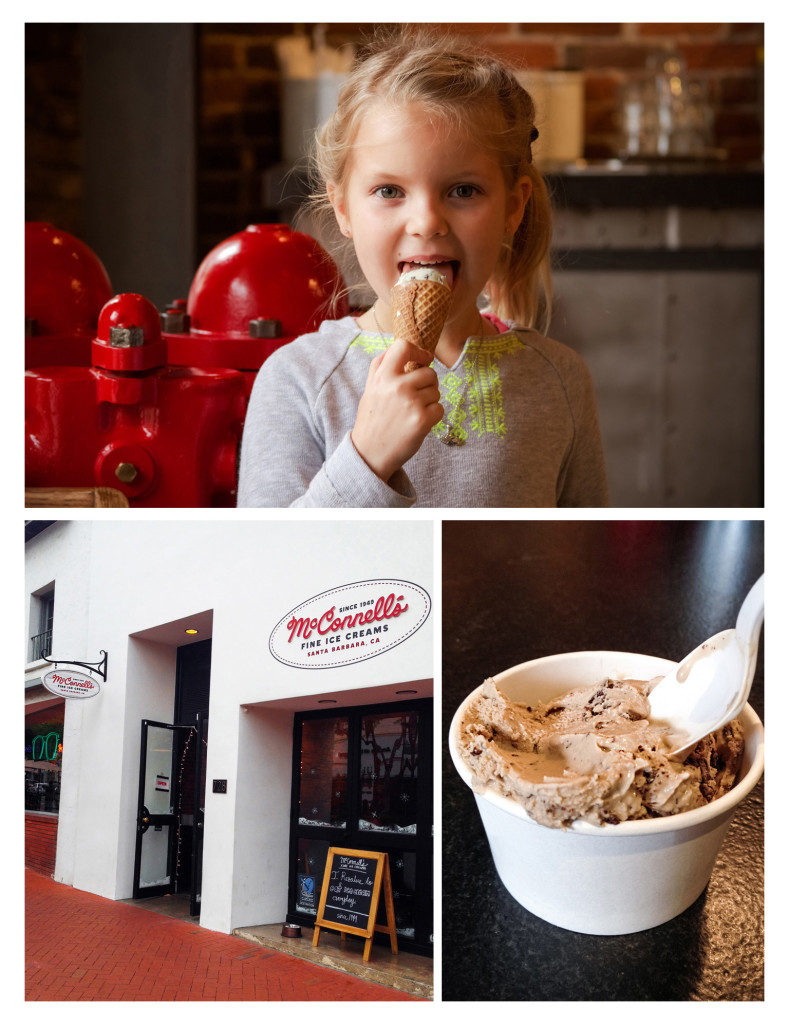 If you are a lover of fine ice cream, this place is for you! We stopped by to give the kids a sweet treat (Ok, and maybe one scoop for Mom and Dad too!) While all the ice creams that we ordered were phenomenal, the Salted Carmel Chip was out of this world! They use all local ingredients with no preservatives, no stabilizers and no additives. And like it says on their website, "After 70 years, we hope we've learned a thing or two." We are here to confirm that they sure have…it's ice cream perfection! Definitely a must try when in SB.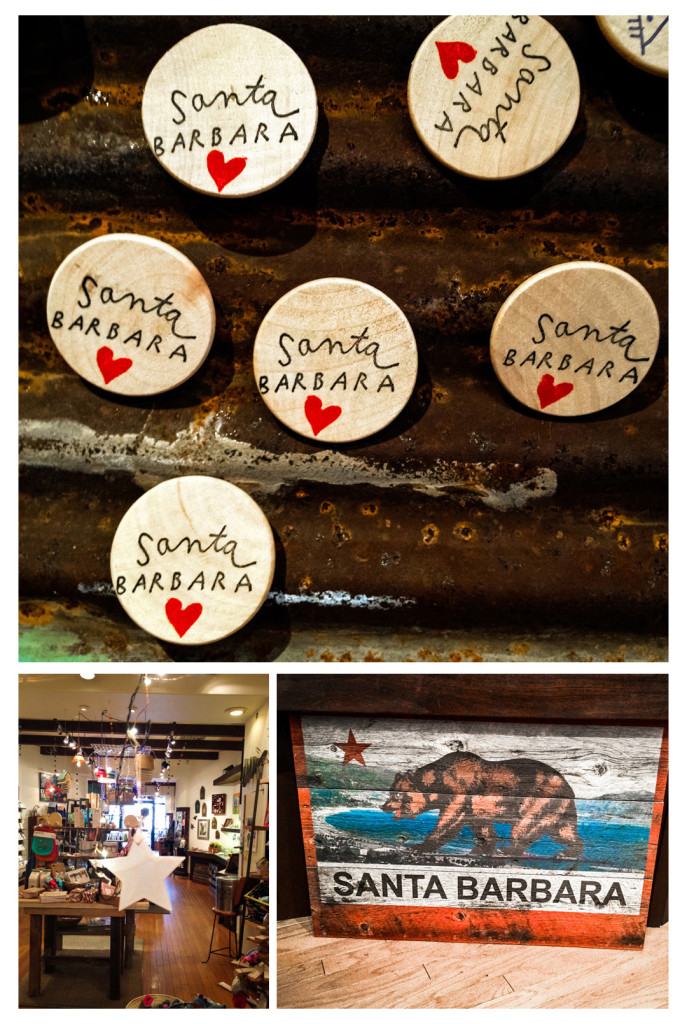 This little gift shop offers some really fun, handcrafted and unique products. From beautiful art, textiles, glassware, jewelry, toys, cards and more, it's a great place to browse through. It has become another spot that we make it a point to stop in every time we visit Santa Barbara. There's always some new little "unexpected" knick knack we find. On this visit, we discovered an amazing piece of artwork that represents Santa Barbara so well. We just have to have it! Hope to get it next time.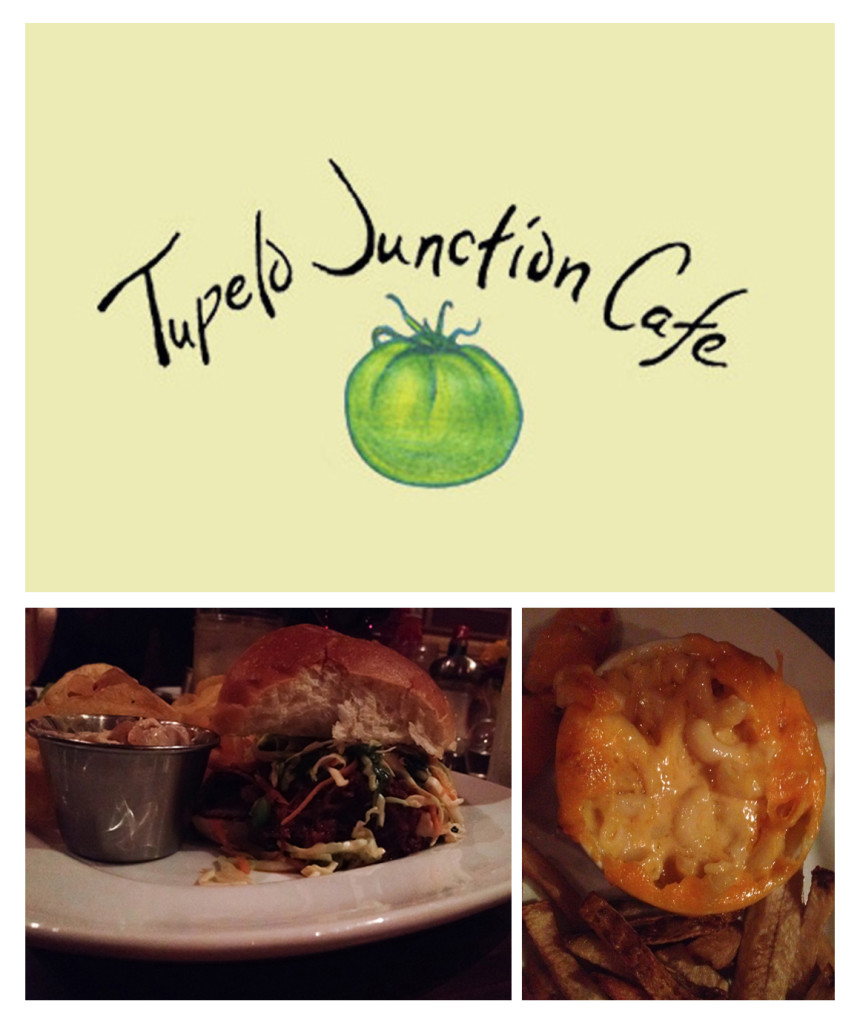 While tasting at Sanford, Tupelo Junction Cafe was suggested as a good place for dinner that was also kid friendly. We decided to give it a try that night and couldn't have been happier. Tupelo Junction is located on State Street and serves up some tasty southern influenced dishes. The atmosphere is very casual, but most importantly the food is very good! We ordered the Pulled-Pork Sloppy Joe and it was insane…so delicious! The kids Deep Dish Mac n' Cheese was also a winner. From what we hear, the Fried Chicken Salad is another customer favorite. Next time we plan on trying Tupelo Junction for breakfast. The menu looks yummy.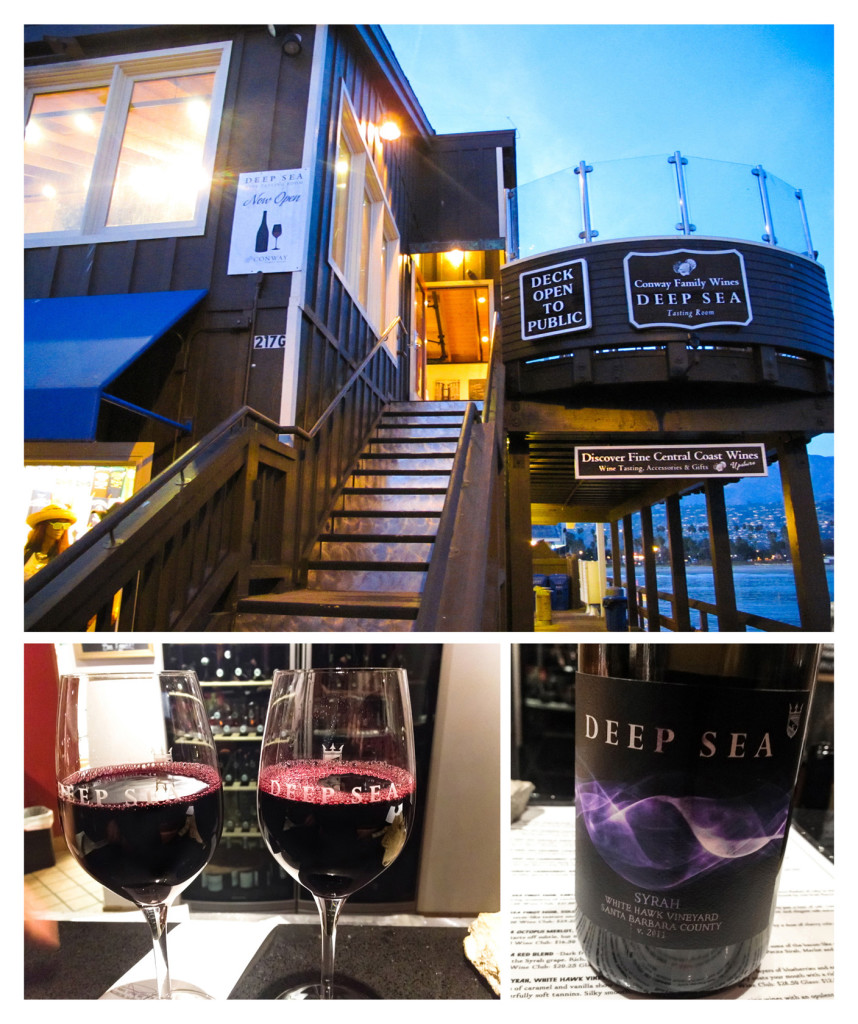 A tasting room like no other in Santa Barbara…wine tasting with beautiful ocean and coastline views! Deep Sea is a great spot if you don't mind taking your wine tasting adventure into the early evening hours (the sunset from here is amazing!) We've mentioned Deep Sea Wines before, but our new discovery here is their 2009 Syrah Hawk Vineyard. Big, flavorful and delicious! We bought one…but it never made it home.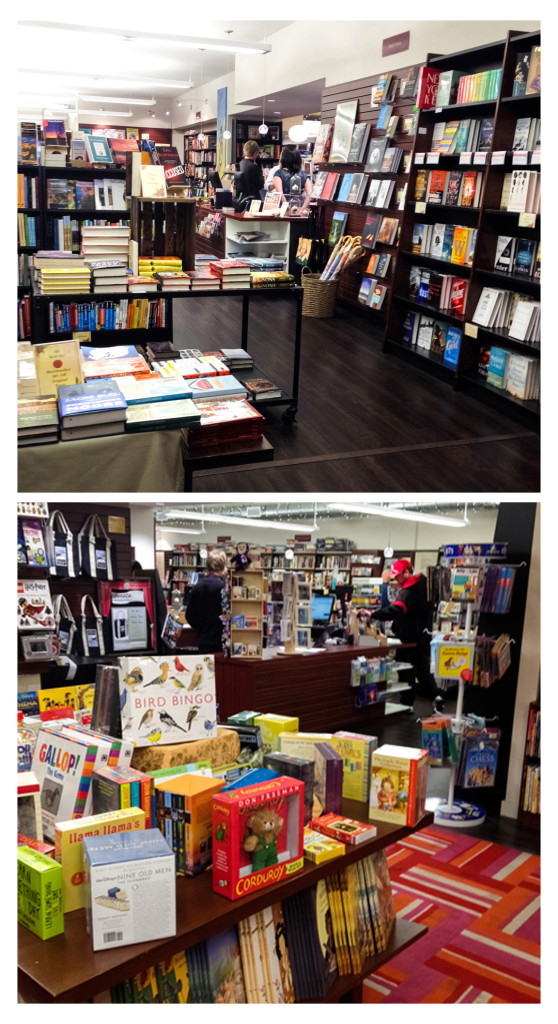 We have always enjoyed reading, especially with our children. There's just something so special about curling up with the kids and reading books to each other. After our dinner at Tupelo Junction Cafe, we stumbled upon a lovely little bookstore called Granada Books. With bookstores slowly closing around the country due to technology, we were thrilled to find this one open. We browsed around with the kids. They have a great children's section and the staff was very friendly. There was a guy playing guitar in the store that night which made the experience even more enjoyable. We highly recommend stopping by Granada Books if you're like us and just truly want to hold a book in your hand and read it!
Get out and explore…anywhere! If your travels take you to the beautiful town of Santa Barbara, let us know what you've discovered or your favorites. We'd love to hear from you!
Cheers!